Chapter Four

New lives started, old ones gone
Another life shall be reborn.

The golden heat of the afternoon sun melted through the open window and speared like liquid gold at an angle across the polished black marble floor. The chamber was clean, but pitifully small and contained only a bed against one wall and an old wooden table with its single, lonely chair against another. The furnishings were sparse, but adequate, and this tiny chamber was where the servant Cimmeran had lived for the past ten years of his life.
It was at the small, arched, north facing casement that he stood now, staring out the window of the gloomy black keep, not feeling the burning light which seared through his plain black servant's garb and shoulder-length, gold-blond hair. He was leaning dangerously far out the open window, heedless of the two-hundred-foot drop directly beneath him, staring in utter disbelief at the waterfall at the northern end of the valley.

He had witnessed, in its entirety, the vicious fight between the two sorcerers. He had watched in horrified fascination as they met on the rocky ledge at midday, the exchange of magic, the ensuing fight and finally, Arzath's demise. Now, he stood in shock, his thin body so still it could have been carved from stone. But the shock he felt was not due to horror, or anger, or even fear - but pure, unmarred joy.

Arzath was finally dead! After all these long, torturous years, his evil, hateful master was finally gone. He had hated Arzath with a passion, but had feared him like he had never feared anyone before...

The Memory was creeping back up out of its hole, dark tendrils searching...

Squeezing his eyes shut, he blocked it, forced it away. It was a repulsive thing, a horror that could not be allowed to reach his consciousness. It would destroy him if it did.

He would not allow it to ruin the profound joy of Arzath's death. He deserved to revel in the glory of this momentous event!

After a few moments, he noticed the heat from the window burning his face like a red hot iron. Opening his eyes, he stepped away into the shade. His black robes were cooking him, making him sweat as surely as if he were in an oven, so he ripped them off and threw them into the corner.

Enough thinking about the past,
he thought determinedly,
it's time to concentrate on the future!
He strolled over to the bed where his travelling clothes were stored.

Reaching under the bed into the musty darkness, he groped around until his hands found the ancient chest. He dragged it out and blew the thick layer of dust off it, the tiny particles swirling up into the beam of sunlight, gleaming like little specks of gold dust. He waved the dust away from his face with a bony hand and opened the worn, battered chest carefully. Inside lay a plain grey tunic, dark grey leather pants, boots and a matching travelling cloak, all neatly folded. Cimmeran smiled and touched the garments fondly.
It's been so long since I wore these,
he thought wistfully, and he hoped they still fit. He had lost a lot of weight since Arzath had kidnapped him and forced him into servitude.

He shuddered. The Memory was surfacing again. He beat it back down, angrily, distracting himself by trying on the clothes.

A little shabby,
he thought, but they still fit reasonably well. Then he remembered that time was of the essence, so he took off his cloak and bundled it neatly under his arm. Then he closed the chest, shoved it back under the bed and hurried to the door, leaving without a backwards glance.

Cimmeran descended the stairs quickly, hoping to leave while the place was still in chaos.

And chaos it was. It seemed everyone in the castle had either seen or heard about the fight on the waterfall, and Arzath's death had caused a wave of uncertainty amongst his followers. Cimmeran hurried through the long, dark hallways, keeping to the shadows. But he needn't have bothered. No one paid him any attention. Griks lumbered around in stupid confusion, and Cimmeran ducked behind a marble pillar as one of the winged reptilian Murons slunk past, black as the darkness, eyes yellow coals glowing in its narrow head. He had no wish to mess with
those.
No-one was sure of what to do, or who was in charge now that Arzath was gone. Arguments broke out everywhere, quickly turning into fights, and Cimmeran hurried by, just another servant amidst the bustle.

He descended the lower levels and before long, he had reached the kitchen. Not a soul creeped down here. The place was deserted; the ovens abandoned. Food was left half-prepared on benchtops, and lanterns flickered in the gloom. Cimmeran had the pick of the whole place, so he gathered up anything he could find and stuffed all his supplies in a discarded sack. Then, slinging the sack over his shoulder, he departed the hot, silent kitchen.

He was halfway up the stairs when he realised suddenly that he didn't have a weapon. Cursing quietly, he paused on the steps, lowering the sack. The armoury was further down, in the underground levels. He didn't have time to go scratching around down there for weapons, so instead he left his sack of provisions on the stairs and returned to the kitchen.

There were plenty of knives lying around, but they were all virtually useless as decent weapons.
Blast this!
Cimmeran thought irritably, pulling out drawers and opening cabinets.
I don't have time for this!
Finally he came across a long hunting knife in one of the drawers at the back of the room. He looked it over quickly, the silver blade glinting in the dim lantern-light, then stashed it in his belt. Not the best weapon in the world, but it would suffice for now.

Cimmeran made his way swiftly back to the sack where he'd left it on the stairs. Snatching it up, he flung it over his shoulder and walked quickly back up the dark stairway.
Cimmeran paused at the hidden door and looked around him. The corridor was dark, musty and very empty. High windows let in a dim grey light, which floated down to the floor like misty cobwebs. This corridor was located in the west of the keep, where the walls of the castle were built right up against the cliff face. No-one ever came down here, except for him. He knew all the castle's secrets - all its hidden passageways and doors, all its rooms and corridors, by heart.

Apart from him, Arzath had been the only other person who knew about them. The sorcerer had trusted Cimmeran with this information, mostly because he sometimes needed him to leave the castle secretly, or fetch things without anyone else knowing, or spy on people. But perhaps trusted wasn't the right word. Arzath had made it perfectly clear: tell anyone, and you'll meet a fate worse than death. And Cimmeran knew only too well that he had meant every word.

So he hadn't told a soul, and now it turned out that that information was coming in very useful. He turned to the shadowed alcove where the door was hidden, and hesitated. What was he going to do when he left? Where would he go? He considered momentarily going over to Requar's castle, but then dismissed the idea. Requar was a friend, and kind to him, but he didn't think he could stay in this valley any longer. He feared that whoever became the new Lord of the castle would find out he'd escaped, and come after him…

The thought made him shiver.
I'm not going to be anyone's slave any longer!
he thought in defiance.

And besides, he didn't trust sorcerers, not even Requar. The amount of magic being tossed around over that waterfall was a little too disturbing for his liking.

So, his mind made up, he touched the carefully hidden latch and the door slid open from the black-stoned wall soundlessly. Shifting the sack to his other shoulder, he took a deep breath and disappeared into the gloom of the mountain, the door sliding back into place behind him, as if it had never been.
* * *
Lord Requar sat in his bedroom chamber in his glorious white castle, the light growing deeper and the shadows longer as the day wore on towards dusk. His sky blue eyes, rimmed red, stared outwards at nothing.

Another death. They were piling up over the years. He had never wanted it to end like this. Arzath had been terrible and angry and cold-hearted, maybe even evil, but Requar had never wanted him dead. He had been his only brother, his only remaining family, and despite everything, he had still cared. Now he was gone.

For two centuries they had been warring with each other, and now, finally, it had come to this. One stupid fight on a cliff top that he, - he remembered sharply - had started. No matter how he looked at it, Arzath's death was his fault. If he hadn't suggested that foolish meeting.... Arzath would be alive today. Plotting and scheming for his death, surely, but still alive.

Requar thumped his fist into his knee, his fingers clenched into a tight ball. He was such a damn
fool!
He should have
known
Arzath would react that way, but no, he had to know what his brother was up to, didn't he? He wished to the Gods that he'd just minded his own damn business!

He buried his head in his hands, wanting to cry, but having no tears left to shed. His long white hair trailed down his back, now uncurled out of its braid. His mind kept going over and over the events of the day, wishing he'd done this, wishing he'd done that, but the fact remained that Arzath was dead and nothing could change that. He tried endlessly to tell himself there was nothing he could have done about it, but it did nothing to ease the guilt that smothered his head like a hot blanket.

Requar rose from his chair and walked over the deep, soft, blue carpet to the window. He looked out to the west, where the summer sun was setting behind the mountains at the rear of Arzath's legacy, his castle, tinging the black stone gold.

He hadn't even had a chance to retrieve the body. He'd spent the remainder of that shocking day sitting atop the waterfall, breaking apart, until the sun fell. By the time he'd forced his feet to carry him back down the mountain, he couldn't find Arzath's body anywhere. He'd thought it had been swept away by the river, until walking back along the cliff, he had noticed two of Arzath's Grik minions carrying him back to the castle.

Requar couldn't bear to go in there and get his brother's body off them. He didn't know what they had done with the corpse and he
really
didn't want to know.

Closing his eyes, he turned away from the scene at the window, walking over to his bed and sitting down on the blue covers. Too tired and weary from grief as much as physical exhaustion, Requar laid back on his bed and tried fervently to get some sleep. But despite his weariness, his mind was hounded by nightmares and sleep would not come.
* * *
Grogdish snorted. "Don't see why
we
gotta be der ones ter get der body," he complained in his deep, grunting voice.

Crysk, walking beside him, nodded. "Yeah. Why don't Kyosk git it 'imself, seein' as he wants it so much?"

The two hulking Griks lumbered along beside the river, their craggy, gold-encrusted shells glinting in the late afternoon sun. The grass beside the river was dry, and it crunched loudly beneath their heavy, booted feet. "I mean, he's just gonna eat it all 'imself," Crysk continued. "We ain't gonna get none..."

Crysk yelped and ducked as Grogdish swiped a rock-like hand at his friend's head.

"He's der Master, Guthead! He gets anyfing he wants!"

They were approaching the riverbank. Spray from the falls hung in a shimmering mist, slick on their scaly, green-grey skin. Grogdish peered nervously at the opposite shore, eyes shifting like shiny beetles in his deep brow. The white castle sat pale and ghostly above them. There was no sign of the white-haired sorcerer.

The Griks were not keen on an encounter with Arzath's brother after he had just killed their master.

Crysk was still grumbling in the background, but Grogdish ignored him. They waded into the river, sinking deep footsteps in the pebbly bottom. The water level was low; it was the height of summer and the crossing presented no problem. Even if it had been deep, Griks could hold their breath for at least an hour. They may be slow (and some more stupid than others), Grogdish thought, glaring at his companion, who had just snagged a fish and was chewing on it, but it was near impossible to drown a Grik.

Indeed, Griks were not easy to kill at all, unlike those scummy Humans, who were so fragile and could be crushed so easily, like glass. Yet, Humans had populated Arvanor in their millions, and Griks had dwindled down to a handful of scattered clans, confined to the deepest mountain ranges. Humans loved killing Griks. Loved hunting them for the precious gemstones and metals that formed naturally on the Griks' shell-like bodies. Grogdish, like all Griks, had grown up with stories of Humans capturing their clansfolk and torturing them for decades, hacking away at them with pointy axes 'till they died.

So it had been for thousands of years. But Arzath had been the first Human who had approached them not wanting to slaughter them all. They did not like his magic: they feared and distrusted magic intensely, but he had offered them protection from Humans and a chance at revenge.

He told them he hated Humans as well, even though he was one.

He had promised them they would be a great race again one day, if they lent him their support. Fierce and loyal creatures ought to have a grander place in the world, he said.

Their wise clan leader Kyosk had liked his offer, and so the clan had gone with him to his castle. The sorcerer had lived up to his promise, allowing them to go on raids to nearby villages and eat Human children, which was just fine by Grogdish.

But now? Now Arzath was dead. Just from falling onto some rocks.

Pah!
Grogdish grunted.
Humans! Fragile. Pathetic.
The rock-like Grik sloshed through the stream, reaching the boulders on the other side. A glimpse of gold and black silken clothing came into view. And yet... Grogdish felt unusually anxious. He couldn't imagine why Kyosk wanted to taste sorcerous flesh. Grogdish would eat anything, but he wouldn't eat a
sorcerer
! Who knew what it would do? It was riddled with poisonous magic! It could... turn him into a
Human,
for all he knew!

Grogdish scowled, staring up at the body on the boulder as though it might sit up suddenly and shoot lightning bolts at him. Finally, grumbling, he reached up and dragged it down into the river with a splash, and began trudging back across as quickly as possible. He hadn't even had his dinner yet.

Crysk was completely distracted, catching fish. Grogdish snatched one out of his hand as he went past, stuffing it into his mouth and munching it with the tail still hanging out. He reached the riverbank and clambered out, dumping the body in the dirt as he did so.

"C'mon slug!" he yelled at Crysk. "Pick up dis fing and let's go!"

Grumbling, the smaller Grik climbed out of the river and stood dripping over the corpse, staring down at it but making no move to touch it. He stuffed another fish into his mouth.

"C'MON!" Grogdish yelled, more angrily. "Pick it up!" Without bothering to wait any longer for Crysk to do as he was told, he turned and starting stomping up the path.

More complaints wafted after him, an incomprehensible mumbling through the chewed-up fish, and then suddenly Crysk let out a cry.

Grogdish stopped on the path, growling, and turned around.

"
What?!
"
The younger Grik had backed up to the wall of the bluff and was standing there in the weeds, pointing a thick finger at the corpse lying on the ground.

Grogdish glared at him and Crysk tried to reply, but he still hadn't swallowed the fish and his words were unintelligible.

"Grrr!" Grogdish stomped over to the body. "What! It's dead! It's a piece 'o meat!" He picked the corpse up by the collar of its fancy waistcoat and shook it at Crysk. "A minute ago you wanted ta eat it! Complainin' that you weren't gettin' yer fair sha--"

His gravelly voice cut off mid sentence. The 'piece of meat' he was waving around had just opened it's deep green eyes and was
staring
at him.

And not in a recently-dead way either.

Grogdish opened his fist and let the body drop to the ground. "Urrr..." he said. "Urrrr...?

They both looked down at Lord Arzath the sorcerer, who was now
definitely
moving in a most
unnerving way.

"I
told
yer!" Crysk said, having finally managed to swallow. "He's
not dead
!"
Powered by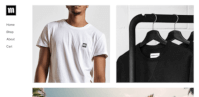 Create your own unique website with customizable templates.