Chapter Nine

Darkest hour born of greed
Friendships made in time of need.

The Clanmaster of the Grik army sat slumped over at his desk, snoring loudly. The sound reverberated with each hoarse breath around the black walled chamber, like an iron blade being drawn slowly across rough stone. A sheaf of paper, which was perched precariously on the edge of the desk, rose slightly as the huge Grik exhaled; then flopped back again with a sigh. The next breath pushed it an inch closer to the drop, where it swayed a moment, then carefully settled back into position. The Grik had just reached the apex of his next breath when the chamber door crashed open so hard it hit the wall and bounced back with a shudder, almost tearing right off its hinges.
Kyosk jerked out of his sleep instantly, one massive hand accidentally catching the side of a stack of papers and sending them flying; scattering through the air like a flock of startled white birds. His crimson eyes opened wide in surprise as Lord Arzath strode through the doorway with a thunderous look on his face.
"Find him!" Arzath yelled angrily, limping through the fluttering papers to stand before the startled Grik. He slammed his fist down on the desk so hard that everything on it jumped an inch into the air.
"Now!"
Kyosk, still dazed from his abrupt awakening, stared at Arzath as the sorcerer clutched his fist, wincing in pain. His mind struggled to catch up with reality. "Er... find who, yer Lordship?"
"Cimmeran, damn it!"
Comprehension dawned finally, and was almost immediately replaced with puzzlement. He had told Arzath that Cimmeran was missing more than a week ago, and the sorcerer had dismissed it as if it were of little importance! Kyosk's thick brow formed into a kind of crumpled V. Why now all of a sudden was he demanding the servant be found?
Kyosk stared at Arzath with a vaguely bewildered look on his face. "We, er,
tried
me lord, but…"
Arzath wasn't listening. He had begun pacing the room, limping, his boots scrunching with each step on the papers lying on the stone floor. Kyosk looked at the ruined papers in dismay, and rumbled a sigh. That was a whole day's work he'd now have to redo.
"How could you let this happen?" Arzath was saying, his voice still raised. His fists were clenching and unclenching before him as he spoke. He reached the wall, turned, and began striding back the other way. "How could you let Cimmeran escape?"
The Grik Clanmaster opened his mouth to reply, but the sorcerer cut him off. "I want him found immediately! I want a patrol of..." he stopped pacing for a moment, and gestured with his arms, his lean face scrunched up in concentration. "... of…"
"Murons?" Kyosk offered.
"Yes! Exactly! Murons!"
He resumed pacing. Kyosk's heavy brow lowered further in a deep frown.
"They are to search the mountains and the passes south and west of here," Arzath continued. "And failing that, the countryside beyond and every damned town until they find him!" He turned and glared at the Clanmaster. Kyosk stared back for a few moments, then looked away darkly. For a Human, those emerald eyes were disturbing.
"Well don't just sit there!
Get MOVING!"
Kyosk scrambled to his feet, knocking over both the chair and the entire desk as his huge bulk filled the small room. He bowed hastily. "Yes me Lord," he replied, and trudged over to the door, which was still open.
He was just about to duck through the arched doorway into the dark-walled corridor beyond, when Arzath called out from behind him:
"And make sure they bring him back
ALIVE!"
Kyosk jogged heavily through the upper levels of the keep, heading for the Murons' quarters. His thick booted feet struck out hard, thumping echoes as he ran; orange torches stirred into fiery dances as he stomped past.
The Clanmaster shook his big head in bewilderment as he hurried to carry out Arzath's order. What, in the name of the Rockfather, was going on? Lord Arzath had been acting strange ever since the accident, when he had fallen from the top of the waterfall. There was something different about him.
Something
wrong.
Kyosk's brow creased in thought as he passed through a ghostly patch of moonlight streaming in from a narrow, arched window in the passage wall. As far as he knew, Arzath had only today come out of his tower room for the first time since the accident. Then, suddenly, out of the blue, he was
insisting
his servant Cimmeran be found
now,
after knowing about it for more than a week! It didn't make sense. It didn't make sense at all.
But there was something else about Arzath that bothered Kyosk, something he couldn't quite put his finger on. Arzath was a sorcerer. He was very powerful, and thus he commanded respect from all his followers, mainly because they feared what would happen to them otherwise. Arzath had always had a... a
presence
about him - a kind of dark aura that surrounded him like a cloak - so that whenever he entered a room, you could
feel
the sheer, potent, force of his magic, even when there were no visible signs that he possessed it.
But today, when Arzath had stormed into his chamber, that presence was gone. He seemed weak, fragile, ill. Somehow
diminished,
as though he were a shrunken version of himself. It almost seemed that…
The thought cut off as Kyosk realised with a jolt that he had reached the corridor which led to the Murons' eyrie.
He slowed immediately. No torches flickered in this section of the castle to light the way; the Murons had excellent eyesight, and preferred the dark in any case.
Kyosk stopped in the junction of the two corridors, directly in front of a large stone gargoyle set into an alcove before him. He squinted into the deep gloom down the corridor to the left and right of him, trying to remember which way the Murons' eyrie was situated.
His skin crawled as he peered into the dark. He disliked this section of the castle: it stunk of Murons. He disliked Murons.
Something in front of him moved, and Kyosk almost jumped out of his rocky skin. Peering up, he saw that the stone gargoyle wasn't a gargoyle at all; it was Varshax, the Muron Wingmaster.
Kyosk stepped backwards as Varshax moved out of the alcove, a black shadow detaching itself from the gloom.
The Muron was impressively tall: about seven feet from head to toe. His gigantic black wings, folded now as they were behind his back, rose at least another two feet above his head.
Murons were essentially Human-shaped, but with a narrow, reptilian head full of piercingly sharp, black teeth. They stood upright on two legs, but the weight of their wings caused them to slouch when they walked, and their bodies were covered in tiny, iron-hard jet scales, harder even than the Griks' rocky skin. They wore little clothing save various accoutrements they had stolen from their victims, such as trousers slashed off at the knees, or sometimes a ragged vest or coat. They had no need of these items, but it amused Murons to walk around as parodies of Humans. They carried no weapons save their own fearsome knife-like claws and teeth.
Claws and teeth that were sharp enough to shred rock as well as squishy Human flesh.
"Kyosssk," Varshax greeted, his voice like the steely hiss of a sword being unsheathed.
"Varshax." Kyosk grunted back.
"Sssso, what bringssss you to my domain?"
"Lord Arzath wants yer to send a patrol out immediately ter search fer Cimmeran. And 'e wants 'im back alive," Kyosk added, knowing the notoriety of the Murons to take no prisoners.
Wingmaster Varshax stared unblinking, triangular yellow eyes down at him and then made a rough hissing noise which Kyosk assumed was supposed to be laughter.
"Sssh, sssh, sssh, ssssh!"
Kyosk cringed inwardly. He hated it when Varshax did that. It was as if he was laughing at some private, inner joke that he had no intention of sharing with anyone.
"Very well," Varshax whispered, and without another word, slunk off into the darkness.
* * *
Cimmeran ran. He bolted through the streets of Tulstan as though a flock of hungry Murons were on his tail. Fatigue and fear were forgotten, swamped by the flood of exhilaration that coursed through his body. He had done it! He was free! Finally and truly free, he could go anywhere, do anything he pleased! But first he had to get as far away from Tulstan as possible…
He fled through the midnight streets, darting around corners and through stinking alleyways, his heart pounding fit to burst. Every limb of his body ached as though he'd taken a beating, but he hardly noticed. His breathing was loud in his ears, and he could hear the jingle of the coins he had just stolen as they rattled against the side of the box.
No one looked up as he passed save the odd drunk or beggar.
He was running down a particularly dark and narrow alley when his legs collapsed from under him. He went sprawling to the ground and landed heavily, cracking his chin. The money box tumbled from his grasp and rattled away into a pile of wooden crates stacked by the wall.
For a moment he just lay there, dazed and panting. He tried to rise, and every muscle in his body screamed with pain. After a minute or two, he managed to haul himself up onto his elbows, and felt a warm, coppery taste in his mouth. He spat, and blood dribbled out onto the pavement. He had bitten his lip when his chin hit the ground.
Carefully, he reached up with one hand and touched his chin, then looked down at his hand. Blood came away on his fingers, but thankfully it was only a graze, nothing serious.
Then he remembered the money box.
For a split second, he panicked, looked around wildly about the darkened alley. Then he caught a glimpse of it underneath an old, rotting wooden crate off to his right.
Cimmeran scrambled up onto his hands and knees, ignoring the protests of his beleaguered limbs, and crawled over to the crates, where he scrabbled around frantically for his precious money box.
Unable to reach it, he pushed at one of the crates, which toppled off the pile and clattered loudly onto the filthy pavement below. But Cimmeran didn't care. His searching hands found the money box and he snatched it up quickly, clutching it protectively to his chest.
He rested a moment, down on his knees in the filth that lined the alley floor, his breath coming in deep, ragged gasps, and waited for his heart to slow to a more healthy pace.
It was then that he heard the noise.
It was only a very small sound, like the faint rustle of cloth, but Cimmeran whirled immediately.
Behind him stood an old man, a beggar dressed in ancient, filthy robes. He had a long, mangled grey beard that reached down almost to the ground. He was hunched over as though his spine was permanently bent, both arms extended before him, pleading.
"A treven for an old man?" his quavery voice wailed. He shuffled hopefully towards Cimmeran. "A javen for an old beggar?"
"Stay away!" Cimmeran yelled, backing up against the crates, clutching his money box even tighter.
The man continued to amble forward, his hands still held open imploringly before him. "A treven for an old, poor, beggar?"
"I said stay away, damn you!"
Cimmeran backed up even further, and felt the hard corner of a crate press into his back. He looked desperately around the alleyway: there was no other soul in sight. The alleyway was empty, apart from himself and the old man.
The man was still coming forward, begging Cimmeran for some money. But Cimmeran wasn't about to part with one piece of his newly found (newly
stolen
) riches, so he began to pull himself to his feet with one hand, using the crates for support.
It was then, while Cimmeran was off balance, that the man suddenly lunged. He moved astonishingly quickly for an old man, and made a grab for the box tucked under Cimmeran's left hand.
But Cimmeran reacted even more quickly.
His right arm whipped out like a striking snake, his fist clenched into a tight, hard ball. His knuckles connected with the man's cheek with a force that surprised even Cimmeran himself, impacting with a hard, fleshy
thud
. The man's head snapped back and he dropped like a stone.
Cimmeran heard a sickening crack as the old beggar's head hit the ground. For a moment he just stood there in the darkness, staring down at the man, clutching his money box, the knuckles of his right hand burning.
Then he turned, and without another glance back, staggered off down the alleyway and disappeared into the darkness.
* * *
Light.
Blinding, piercing, all-invading white light, streaming through the blackness and washing away the ghostly grey nothingness of sleep like mist in the dawn.
Slowly, Ferrian opened his eyes, and immediately clamped them shut again as a spear of bright sunlight stabbed into them. Groaning, he fumbled for the covers, seeking to cloak his head in the welcome blackness again.
But to his annoyance, a strong hand yanked the covers out of his grasp, and he tentatively opened his eyes once more to see the grizzly face of Grisket Trice grinning down at him.
"Arrrrgh. Is it morning already?"
"No, actually it's not," the Commander replied, walking over to a nearby chair, where Ferrian's clothes were laid out neatly.
Ferrian's mind was still foggy from sleep, and he thought he mustn't have heard correctly. He peered over at the window of his room: it was filled with bright golden sunshine.
"What? What are you talking about?"
Commander Trice did not look up from what he was doing. "It's noon," he said simply.
Ferrian sat bolt upright in bed, his eyes now open wide in astonishment and horror.
"Noon?"
he exclaimed incredulously. "You let me sleep in
all morning?!"
This time Grisket did look up, and he smiled. "You needed the rest. Especially before setting out on a long journey."
Ferrian was scrambling out of the bed, throwing the covers aside quickly. "I don't believe it! That's half a day wasted!"
Grisket straightened as Ferrian hurried over. He was dressed, as usual, in his black and blue uniform, including his familiar hat with it's long striped feather. He shrugged. "As I said, you needed the rest. And it's only half a day. The Winter'll take longer than that to catch us up."
Ferrian didn't reply. He was staring down at his clothes on the chair. "What are these?"
Grisket glanced down at the neatly folded pile of clothes and put his hands on his hips. "Kid, your clothes were a heap of stitched-together dirt and air. I thought it was about time you had some new ones."
"Thanks," Ferrian replied. Before him on the chair sat a clean pair of pants, shirt, tunic, boots and a lightweight travelling cloak. He picked up the neatly folded tunic that was sitting on top.
It was black, with… a cobalt blue left sleeve.
He looked up at Grisket in astonishment.
The Commander smiled and nodded. "You're an honorary Freeroamer now, Ferrian," he said, clapping a hand on Ferrian's shoulder.
"But..."
"Folks'll be less likely to bother you if you're one of us."
"But..." Ferrian struggled to find the words. "I'm supposed to be your prisoner…?"
"Bah!" Grisket waved a hand. "Folks'll forget about that. We'll be gone from the Outlands long enough." He walked over to the door. "The next scandal will come around the corner any moment now. Always somethin'. Don't worry about it."
He left Ferrian staring down at the pristine uniform, not knowing what to say.
Ferrian stood on the shaded front porch of the Guard House, watching the afternoon sunlight cast long ribbons of gold through the leafy treetops. Below him, the town of Forthwhite spread out, shimmering and peaceful, warm and lazy. No gathering storm. No hint of frost.
For the moment, the Winter slept.
Ferrian looked down at his blue left sleeve. He couldn't get used to the uniform. The clothes fit him quite well, but it wasn't the cut of fabric that made him uncomfortable. The uniform represented honour and justice; pride and respect. He felt as though he were pretending to be a different person, that this outfit was made for someone else, someone he could never be. After all the misery and inconvenience he had caused, was it really right to present himself as a Freeroamer, someone other people looked up to and trusted?
He certainly couldn't guarantee anyone's safety, that was for sure.
He frowned anxiously. The Freeroamers were helping him out, but he had no idea how dangerous this journey was going to be. They were going first to Crystaltina for information but after that… He shook his head. They would be meeting up with a sorcerer at some point.
Ferrian knew nothing of sorcery. He had seen no evidence of any other magic during the long and lonely years of his life, other than his own Winter. And his Winter was incredibly destructive. What kind of power then, could a true sorcerer wield?
He didn't want to be responsible for getting the Freeroamers into something they couldn't handle, but nor could he go on living as he had been. It was wearing him down, the Winter chipping away bits of his soul like an ice pick. He considered what Constable Dogwyn had suggested in the Council Room:
How about we cart this kid off to the Perpetual Peaks and ditch him there?
Ferrian wondered darkly if the guy had a point…
The door behind him opened suddenly and he almost jumped out of his new Freeroamer uniform. He spun around quickly to see that it was Constable Raemint.
"Alon!" she greeted pleasantly.
"Er... Alon...?" Ferrian replied, hoping he'd returned the Centaurion greeting correctly.
She clopped up to stand next to him, black hide gleaming in the warm golden sunlight, horse's tail swishing at the flies buzzing lazily around the porch.
"Worrying only makes the path ahead seem darker, did you not know?" she said softly.
Ferrian glanced at her. The Centaur's voice was calm; but she seemed tense, almost as if she was about to flee, and her hooves kept shifting around as if she was standing on something uncomfortable.
"Um, are you okay?" he asked anxiously, wondering at the same time if it had anything to do with him.
Raemint turned her head and smiled at him. Then she shook her head. "It is your magic. We Centaurs are very sensitive to it; it makes us uncomfortable."
"Oh, I... I'm terribly sorry..." he said, and quickly began to move away, but Raemint put a firm hand on his shoulder.
"No, no, do not go on my account. I can handle it."
Ferrian looked up into her face, and beyond her smile was a grim determination that was almost frightening in its intensity. He knew in that instant that behind that kind, beautiful demeanour was one very impressive warrior.
There was silence for a few moments. Ferrian stared down at the sun-baked earth beyond the faded, grey wooden boards of the porch.
"You should not doubt a decision that has already been made."
Ferrian nodded, and stared back down at the ground. A beetle clawed its way up between a crack in the weathered floorboards, and began to amble towards his boot. "I know," he said "but when people's lives are at stake, it kind of comes naturally."
Raemint smiled. "Well, for the record, I do not doubt that this is indeed the right decision, and neither does the Commander, Captain Sirannor, or anyone else."
"Except Constable Dogwyn," Ferrian pointed out.
Raemint said nothing.
"He doesn't like me very much, does he?" Ferrian continued.
Raemint laughed again and touched his arm softly with her hand. "Do not take it personally. Constable Dogwyn does not get along very well with anyone possessing fewer than four legs."
Ferrian was silent, prodding absently at the beetle, which had just reached the side of his boot.
"He might have had a point, though," Ferrian said quietly, after awhile. "Perhaps it
would
be better for everyone if I just… you know, went off somewhere into the mountains, far from civilisation where no one could get hurt--"
"No," Raemint cut him off, and stared at him. "Commander Trice chose to help you for a reason. And he gave you that uniform for a reason," she gestured at Ferrian. "No doubt you think you are unworthy of wearing it, that we are all better people that you are?"
Ferrian looked away, feeling his face redden. The Centaur continued to stare at him, her gaze intense. "You would be wrong."
She looked off into the sunlit afternoon. "We all carry a personal Winter within us, Ferrian," she went on. "All of the Freeroamers left broken pasts behind to come here and become something new."
He looked up at her. "I didn't know that."
She gestured with a lean, dark arm at the horizon. "Your Winter is visible. It bombards you with snow and ice and storms. Ours is here, inside us," she put a hand to her breast.
"So you see, we are not so different from you, Ferrian. We all run from our own Winter."
She fell silent and they both stared out at the shadows lengthening over the front yard of the Guard House.
"Can it be cured?" Ferrian asked finally, his voice quiet.
"No," Raemint replied simply. "There is no escape from Winter. It is nature. It is life. It comes and it is necessary. However," she added, noticing his dejected expression, "it may be calmed. It may be soothed until it is merely a cool breeze upon your heart."
She removed her hand from her breast and turned to leave. "And that is enough." She nodded to Ferrian. "I wish you the best for your journey."
Then she retreated through the Guard House doors and was gone.
Ferrian stood watching the sun set over the white town until the last rays of red had faded into a deep, deep blue, and the stars awoke, high and clear and cold.
Powered by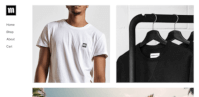 Create your own unique website with customizable templates.