Chapter Five

Memories lost and memories woken
Through friendship shall the truth be spoken.

The man opened his eyes slowly, awakened by the shaft of bright sunlight that spread across his face from the casement on the other side of the room. Gradually, his eyes roamed around the unfamiliar surroundings.
He was in a circular room, the walls all made of smooth black stone. The chamber was lavishly furnished, with colourful wall hangings and tapestries, and a plush red carpet covered the floor. A wide desk stood to the right of him, covered in many crystals of various sizes and colours, and among them a range of curious looking objects and artefacts.
Intrigued, the man turned his gaze to the wide, four-poster bed where he lay. A canopy of gold silk draped above his head; the covers sprawled away from him in lush red velvet.
A frown creased his slim face.
Where am I?
he thought, puzzled.
Closing his eyes again, he tried to remember what had happened.
How did I get here?
But to his frustration, he was met only with a blank grey void where his memory had been. He couldn't remember anything!
He squeezed his eyes shut harder and tried desperately to find a memory of something...
anything…
There was nothing. He couldn't even remember his own name! He clutched the soft velvet covering in panic. What had happened to him? Why couldn't he remember anything?!
His eyes snapped open sharply as he heard a knock on the door. He watched warily as the door on the far side of the room opened quietly, and a young, thin boy entered, dressed in black robes and carrying a silver tray.
The man tried to sit up, and found with horror that he couldn't. His body felt so weak he could hardly move.
Fires of hell!
he thought. What had done this to him?!
The boy, a servant by the look of him, approached the bed cautiously, gripping the tray in front of him as though fearful of dropping it. "L... Lord Arzath?" he said quietly.
The man blinked.
Lord... Arzath...?
So his name was Arzath. And he was a Lord. He took a deep breath. It wasn't much, but it was a start.
He relaxed slightly and glanced over at the servant. The boy's eyes widened when he saw that he was awake. "Y, you're awake!" he exclaimed in surprise, and the man whose name was Arzath tried to speak, but found that the words would not come.
The servant hurried to the bedside table and set the tray down. The boy was shaking so much that everything on it rattled. He would not meet his eyes.
Arzath pondered this behaviour. The boy appeared to be afraid of him. Why?
The servant spoke again, without looking up. He motioned to the food tray. "D- do you want something to eat, your Lordship?"
Arzath realised for the first time that he was indeed incredibly hungry. He gave a meaningful glance at the food tray and managed a barely perceptible nod of his head. The servant quickly proceeded to feed him. His hand trembled as he carefully fed Arzath the food.
Arzath felt frustrated and angry that he was so weak and helpless that he couldn't even feed himself, but there was nothing he could do about it. All he could do was lie there and let the servant do his job.
* * *
The winged man shifted uncomfortably on the high, snow covered bough of the ancient oak tree, wincing as one of his snowy coloured wings dislodged a chunk of snow that fell from a higher branch and ran icily down the neck of his tunic. Cursing, he almost lost his balance on the slender bough, steadying himself quickly with numb hands. "Blast this!" he muttered quietly, settling back again to peer with keen eyes through the network of heavy, snow covered branches into the grey, still gloom of a wintry twilight.
Aari sighed and shivered in the unnatural cold.
Blasted sorcery
, he thought bitterly.
Must be that sorcerer Grisket was after. Hope he catches the bastard.
He removed one hand from the frozen branch he'd been holding, the fingers stiffened into claws, and tucked it inside his tunic, trying to get some warmth into the frozen limb. He rustled his white and copper feathers, wishing desperately that he could stretch his cramped wings. But the branches of his lookout were too closely interwoven, and besides, he didn't want to attract attention.
Aari'Zan was an Angel - a race of winged people who lived in Arkana in the far north, beyond the Tentaryl Ranges. They were a solitary race, keeping apart from the rest of the world in their little forested haven behind the mountains.
In fact, the entire race of Angels was forbidden to make contact with foreigners, or even to cross the Tentaryl. Breaking this law was considered treason, punishable by banishment.
Throughout his childhood, Aari had wondered what lay beyond the mountains. His curiosity grew stronger every time he heard an ancient (and forbidden) fairy tale of far off lands and strange, wingless races of people; Dragons and sorcerers and other bizarre creatures. The older he became, the more the desire to
know
burned within him and his frustration grew.
Damn this stupid law!
He had thought. Why should they stay locked up here behind the mountains like prisoners in their own home, when there was so much experience to be had, and a whole world to explore?
His best friend Mekk'Ayan, a black-winged Angel, shared his opinion, and they spent many exciting evenings lost in books and candles, conspiring in secret.
But one day Mekka left without him.
Angry and hurt, Aari followed, flying away from his forest home and over the mountains, and to hell with the consequences. The fact that he could never return hadn't deterred him in the slightest; why would he want to return anyway? They were all a lot of arrogant imbeciles who thought they were the only people in the world who mattered.
His only regret since leaving was abandoning his parents. They loved him and he could picture their devastation when they found out what he'd done, and he felt such remorse for putting them through that.
But what's done is done,
he thought, and things had turned out better in the end. He had made a life for himself, the kind of life he could never have dreamed of in Arkana.
And he had made friends. He had met Grisket Trice, who had become like a second father to him, and teamed up with his small but effective group of Freeroamers who patrolled the isolated country towns of the Outlands.
And that was how he'd got to where he was now, perched atop a tree, freezing, in a forest that was covered in snow in the middle of summer, trying to discover the whereabouts of a Bladeshifter prison compound.
His teeth chattered in the cold. Typical to get
this
boring mission while the Commander was out chasing
sorcerers
! He huffed. He had the distinct impression that Grisket was trying to keep him out of the way…
Aari started, nearly overbalancing again as he heard footsteps approaching, the sound of boots crunching loudly in the crisp snow. He hunched down quickly, peering intently into the darkness, his hand sliding down towards the knife sheathed at his side. His numb fingers fumbled, then gripped the hilt tightly, and the blade slithered silently from its sheath.
Aari tensed, listening.
Two of them, by the sound of it.
He waited as the footsteps came closer, and tried to make out their forms in the dark, but the branches of the tree obscured most of his vision.
Curse it
, he thought. The footsteps were very near now, approaching the tree where he was hidden.
Aari made a rapid decision.
Bladeshifters. They must be. Who else in their right mind would be out here in the cold at night?
Besides himself, of course. A quick smile crossed his face.
About blasted time too! Now he was going to get to the bottom of this…
He waited until the two figures were almost directly beneath him, then leapt from the tree with a yell and landed in a flurry of wings on the nearest figure, knocking him to the ground.
Confusion broke out. The two of them struggled thrashing on the ground, in a tangle of bright wings and black cloak. Then suddenly the young winged man jumped back in astonishment as he caught a glimpse of the figure's face.
"Commander!"
he exclaimed, gasping for breath.

The man pulled himself up off the ground, covered in snow, and scowled into the face of his attacker. "Sergeant! Gods man, what the hell are you trying to do, kill me?"
Aari simply stood, stunned, his mouth open. Then he broke into a wide grin. "It'd take a lot more than a cold, skinny Angel to kill you, old man!" he replied laughing, and flipped his knife back into its sheath.
Grisket was grinning from ear to ear. "Old man??" He punched the younger man mockingly and the two friends embraced.
It was then that Grisket remembered Ferrian.
He turned to the boy, who was standing to one side, his silver eyes moving quizzically from one face to the other.
Grisket retrieved his hat where it had fallen during the scuffle. Placing it firmly on his head, he gestured to Ferrian, then to Aari.
"Ferrian, this is Sergeant Aari'Zan, one of my Freeroamer companions. Aari, this is Ferrian: that sorcerer I was telling you about."
At the looks on both their faces at that comment, the Commander chuckled. "Ha! I'm kidding! Turns out he wasn't a sorcerer after all."
Aari frowned, looking perplexed and somewhat suspiciously at Ferrian. "But... what about all this snow?"
Commander Trice placed a hand on Aari's shoulder. "All in good time, Aari. But first, I suggest we make camp for the night. It's damned cold out here!"
The three of them trudged along together through the night-shrouded forest, making for Aari's camp a short distance away. No one spoke, and Ferrian was so fatigued and weary that it was all he could do to keep his legs moving. Grisket had lent him his cloak, and Ferrian was grateful, but it did little to ease the cold that penetrated deep into his skin.
As he walked, he raised his head to look at the winged man walking just ahead of him. It was hard to make out the colouring in the gloom, but the large, snow white wings protruded from his shoulders to fall in a graceful swoop to the ground. The feathers appeared to be patterned with coppery bands, to match his short hair. In patches of moonlight, the tips blazed orange.
Ferrian marvelled at those wings. He had heard tales of the Angels, but this was the first time he had actually seen one.
They reached the camp sooner than Ferrian had expected. It was hidden well in a small clearing amidst snow-dusted bushes. Ferrian could make out the shape of a single tent set back on the far edge of the clearing.
Aari wasted no time in making a fire. The winged man crouched at once to the small fire pit ringed by stones, which had been set beforehand with timbers and covered with a canvas to keep the wood dry. Very soon a welcoming blaze was crackling, brightening the clearing with a warm orange glow, and the three freezing travellers huddled gratefully around the leaping flames.
Sergeant Aari rummaged around in his supplies for pots and food while Commander Trice began to explain to Ferrian how he had heard about the Winter.
He and Aari were part of a group of law enforcers, their job being to protect the Outlander villages from crime. He explained how frightened villagers had come to him telling tales of a young sorcerer with peculiar silver eyes, that had arrived in their village and had left in a storm, leaving blankets of snow and destroyed crops in his wake.
Any other Commander would have simply dismissed their stories as superstitious nonsense, but Grisket had decided to investigate. Apparently, the Bladeshifters were also searching for such a boy, which made Grisket very interested indeed, so he had assigned his Freeroamers to track all Bladeshifter movements. This had led him eventually to Meadrun, where he caught a glimpse of a silver-eyed boy in the
Bramble Barn
tavern, while keeping an eye on a Bladeshifter bartender.
He had then tailed Ferrian outside and attempted to talk with him, trying to gain an insight into the character of this boy, trying to determine if he was a sorcerer or not. Ferrian had made his job very difficult, Grisket remarked, by refusing to say anything about himself! But it had also made him suspicious that the boy had something to hide, and Grisket became convinced that this was indeed the sorcerer the townsfolk had spoken of.
But he had had to let Ferrian go on his way, because he had no proof that he had been using magic to destroy crops or anything else. So he had let Ferrian leave the town, and then followed him again secretly to see what he would do next. Grisket had hoped to catch Ferrian in the act the next time he struck with the Winter.
Ferrian gasped. "You
were
following me!"
Grisket nodded.
Ferrian swallowed. So his suspicions had been correct, after all.
Then Grisket began speaking again, answering the question that had just formed in Ferrian's mind.
"I lost track of you some way into the Valewood Forest," he continued. "Your tracks had been very clear up until the point where they just seemed to disappear into thin air." He raised his hands in a shrug and let them fall back down again. "I scouted for hours along the roadway and in the surrounding forest, but I could find no trace of you. It was at that point that I was becoming more convinced you were a sorcerer, and that you had used your powers to escape detection."
He paused, and there was a deep silence, filled only by the sharp crackle of the flames. No other sound disturbed the inky blackness around them. Ferrian said nothing.
Grisket shook his head slowly, and shifted the blanket further up on his shoulders. "But I didn't give up," he went on. "Not after I had come so far.
"I continued to search for any trace of your whereabouts for the next three days. I found nothing. Nothing at all to suggest you had even come this way. Travellers came and went occasionally along the road, and I inquired if they had seen a boy with unusual eyes come this way, but no-one had, or else no-one was willing to say.
"I was beginning to give up hope, when on the fourth day, the weather began to change. I didn't pay it much mind at first - a cooling of the air, a gathering of grey clouds in the sky. I thought that perhaps the summer rains had come at last. But the weather rapidly got worse and worse, until finally it began to snow, and it was then that I knew that this was no natural occurrence. It could only mean that you were still in the area.
"That settled it for me. I found new determination, and continued to scour the forest, searching for you, going over the same ground once, twice, three times even. But still I found nothing. Until the Bladeshifter, that is."
At this, Aari, who had been listening while he prepared their meal, looked up, eyebrows raised. Grisket continued with his story.
"He came through the undergrowth, moving remarkably quietly for one so large. He moved slowly and deliberately, covering his tracks with meticulous care. My suspicions now aroused, and having so far found nothing at all to account for your disappearance, I followed him. The man led me to a hidden trapdoor in the ground, completely buried with snow and brush. Once he revealed to me the location of the Bladeshifter prison, I dispatched him and quickly made my way inside. It didn't take me long to realise what had happened. The Bladeshifters had captured you."
"And that's when you rescued me," Ferrian finished, a little astonished. "You thought I was a sorcerer, and you still rescued me." He stared at the Freeroamer Commander questioningly.
Grisket was silent for a moment, holding Ferrian's silver gaze. Then he shrugged. "To tell you the truth, by then I was having my doubts. If you really
were
a sorcerer, why would you have let the Bladeshifters capture you? It didn't make sense. But never take anything at face value where sorcerers are concerned, that's what I always say. So I made up my mind to confront you with the truth, and find out once and for all what was going on."
There was a long silence. "Does this mean you believe me, then?" Ferrian said eventually.
Grisket sighed and looked off into the silent, snow-shrouded forest. "Do I believe you're a sorcerer?" He shook his head. "No, boy. I don't know what you are. I don't know what to believe any more, but I don't believe you're a sorcerer, and I should know."
Ferrian opened his mouth to ask what Grisket meant by that last comment, but was interrupted when Aari announced that supper was ready. Abruptly, all thoughts except that of food vanished from Ferrian's mind as he caught the delicious aroma of hot vegetable stew, and the question went unanswered.
Their discussion was halted for a few minutes as the Angel served them, and for a time they ate in silence.
Aari shifted his position on the cold, hard ground. "So, if Ferrian isn't a sorcerer, how do you explain all this?" he asked, gesturing at the snowy darkness surrounding them.
There was a silence. Commander Trice cleared his throat and looked at Ferrian. "That, Sergeant, is a very good question."
Ferrian looked at them both. Then he sighed deeply and told them his story: about growing up with the gypsies and being abandoned in the blizzard. About the years he had spent wandering around the countryside, trying to keep one step ahead of the Winter. The Freeroamers listened intently. When Ferrian had finished, both men sat in awed silence, the only sound being the crackling of the flames as they crunched hungrily on their sticks.
Sergeant Aari cleared his throat, breaking the silence. "That's.... incredible. I can't begin to imagine what you've been through all these years."
Ferrian hunched a little closer to the fire. The freshly woken memories were sharp and painful as icicles. "You have no idea," he said quietly.
There was an uncomfortable silence. Then Grisket sighed. "Still gotta bring you in," he said, shaking his head. "No choice. Can't leave you wanderin' around out here causin' damage, even if it is accidental. It's upsetting people."
Ferrian shook his head in frustration. "You can't lock me up in the Guard House! You saw what happened in the Bladeshifter prison! We'll all freeze to death!"
"Aye," Grisket agreed. "Locking you up is clearly not the answer."
"Then what do we do?"
The Commander fell silent again, frowning.
"We find a real sorcerer," Aari said quietly, from across the fire.
They both looked up at him in surprise.
"That was my original plan," Ferrian said, "before being captured by--"
"No."
They looked at Commander Trice, whose bearded face had darkened even further, a match for the icy shadows around them. "Out of the question."
"But, Commander--"
"No!" he said more forcefully. "Sorcerers are not to be trusted!"
"You didn't hesitate to go after Ferrian when you thought he was one," Aari pointed out, scowling now as well.
Grisket glared at him. "That was
my
mission!" he growled. "I went to great lengths to keep you all out of the way! I didn't want anyone else involved!"
"Well, we're sure involved now!"
The Commander got abruptly to his feet. "Aye!" he replied angrily. "But regardless, we'll think of another way!"
Then without further comment, he stalked off to the side of the clearing and began preparing his bedroll.
The two younger men sat by the fire watching him, troubled. After awhile, Aari glanced up at Ferrian. "He, uh, had a bad experience with sorcery in his past," the Angel told him quietly, "much like you. And he lost people he cared about. But," the Angel shook his head, "it's not my story to tell."
The winged man stood up. "You should get some sleep while you can." He gestured at the small tent. "The tent's yours." And before Ferrian could argue, he went and curled up on a blanket on the opposite side of the clearing to Commander Trice, folding his white wings over himself to keep out the softly falling snow.
Ferrian remained sitting in the middle of the clearing, staring gloomily at the dying fire. Tired as he was, he was fairly sure he wouldn't be able to fall asleep.
Around him, the Winter loomed.
Powered by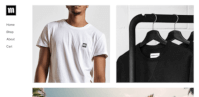 Create your own unique website with customizable templates.