Chapter Two

Revelation, confrontation
Tragedy from elevation.

The valley gleamed like new-forged gold in the early morning sunlight: a polished nugget nestled in a ring of featureless grey stone. High above, a wistful summer daydream, distant peaks speckled with white snow faded into the glorious blue sky. To the north, a long waterfall dropped like a crystal lance from the cliffs before winding along the valley's bottom, etching out the contours of the reed-beds with its gurgling song.
On either side of the glittering river, perched on ledges in the cliff face like sentinels facing each other down, were two castles.
The one to the east was white, its high towers and parapets rising to the sky like ivory arms seeking to embrace the heavens. Window frames and doorways were decorated with delicate silver and gold scrollwork. Not yet embraced by the shining orb rising behind it, its walls nevertheless seemed to emit a cool, unearthly radiance, as though some remnant of starlight from the vanquished night had become trapped in the stone.
The one to the west was its brother, a shadow even in the sunlight, a twisted and corrupted doppelganger. Its towers were black and spindly; like a basket full of burnt fingers, they clustered together among the battlemented walls. Upon the steeply sloping rooftops, spires like razor sharp nails raked the air. Crouching in the gloom of doorways and eaves were numerous black stone gargoyles, carved into hideous forms. The dusty breeze that flurried through the narrow open windows blew out again whispering of malevolence.
In the latter of the two castles, Lord Arzath stood at one of these windows, facing the morning sun as it climbed over the ragged peaks and matching it glare for glare. Warm fingers of air twitched the black hair about his shoulders and quickly pulled away again.
Directly opposite him, the white castle sat in the shadow of the mountains, cool and serene and silent, unfazed by his latest attempt to smash it into a pile of majestic rubble.
How he
despised
that castle.
The latest assault hadn't gone well.
The extremely annoying thing about lightning magic, he reflected, seething, was that it never hit the same spot twice. By its very nature, it was unpredictable, all but uncontrollable, even for an accomplished sorcerer such as himself. While devastating in close quarters, focusing such erratic energy on a large target at a distance with any sort of accuracy was nothing short of laughable. All of his strikes had gone wildly astray-- either grounding themselves on nearby pine trees or simply bouncing off the impenetrable shield of magic that his brother had constructed to protect his castle from exactly this sort of attack.
It was like trying to kill someone with a thousand needle pricks, each one on a different part of their body.
But even needle pricks could hurt, if there were enough of them. His strategy had been to bombard the shield with such a massive amount of magic that Requar's mind would not be able to endure the pain. The shield was an extension of his consciousness-- in essence, a barrier composed of sheer will.
Yet, it had refused to break, or even to weaken. In a fit of rage, Arzath had launched a bolt with such violence that it had rebounded off the shield, cracked across the entire valley and struck his
own
castle, penetrated his
own shield
, and shattered one of the towers. Fortunately, it had only contained servant's quarters, but the pile of black rubble littering the bluff below made him burn every time he glanced at it.
He had ceased the attack, after that.
At least dear Requar should be nursing an interesting migraine…
The amusement of that thought was almost enough to console him, but not quite. Nothing could ever outweigh the hatred he felt for his only surviving blood relation. Requar had taken
everything
from him, and Arzath was determined to take it all back, whatever the cost.
His fingernails dug into the warm jet stone of the window ledge so hard that his knuckles showed white through his lean hands. That white fortress was a mockery. It was a farce, an insult to every sorcerer who had ever lived.
For it was Requar who had destroyed the art of magic; his own brother had wiped the School of Magical Studies from the face of Arvanor in a single catastrophic stroke.
Now it was just the two of them.
Only Arzath had the power to avenge his fellow sorcerers.
No, not even I,
he corrected himself bitterly.
At least, not yet…
He inclined his head slightly in contemplation, the sunlight picking out the gold flecks deep within his forest-green eyes.
Ah, my beautiful weapon.
He had spent many long years perfecting it, and now, finally, it was almost complete, despite one mistake that had almost ruined the entire plan. The incident at Ness all those years ago had been unfortunate, but none of the townsfolk had lived to tell the tale. Rumours had spread of course, but they had been vague and insubstantial, and to his knowledge, none of them had reached Requar.
Arzath snorted. Not that his brother would have been able to stop him, but the less of his plan Requar could deduce the better. Unfortunately, he still required one more item to make his weapon complete...
There was a hesitant knock on the door of his chamber. It was almost too soft to be heard, but nevertheless Arzath was irritated at the intrusion on his ruminations. Not bothering to turn around, he flicked his wrist and the door flung open behind him. "Yes?"
The servant entered quickly and Arzath turned from the window to face him. Seeing whom it was, Arzath cursed inwardly.
That damned Cimmeran again.
Cimmeran looked nervous. He was fidgeting with the hem of his cloak, and his eyes roamed all over the room.
"Well, spit it out, damn you!" Arzath snapped.
Cimmeran swallowed hard. "Lord Requar requests that you meet with him above the waterfall at midday, to discuss a peace treaty..." his voice trailed off as his master's eyes narrowed, like a Muron sizing up its next meal.
Swallowing again, the servant quickly tugged a sealed letter from his pocket and held it out with a shaking hand, cringing noticeably under the force of Arzath's glare. The sorcerer snatched it and ripped it open, giving the message no more than a cursory glance before striding to the open window.
Then he paused.
He looked down at the half-crumpled letter in his hand. Slowly, he smoothed it out and read it again, this time with more care.
He grinned.
"Tell Lord Requar," Arzath said, turning back to Cimmeran, "that I would
love
to make his acquaintance."
On the opposite side of the valley, a tall handsome man stood alone at his study window, watching the sunlight bathe the dark blotch on the other shore that was his brother's castle. Long white hair trailed in a neat braid down the back of his exquisite embroidered cobalt waistcoat. His fine facial features retained the essence of youth, but his eyes betrayed an age and knowledge and sorrow far beyond that of a single Human lifespan.
He was twice as old as any man should rightly be, and he was beginning to feel it.
Wincing, he turned away from the depressing view, touching the throbbing spot between his eyes. His brain felt as though it had been mashed and burned at the same time, but at least the pain wasn't as bad as it had been two days ago, directly following Arzath's attack. It had been one of the most vehement and enduring sieges that Requar could remember, and it had taken all of his strength and focus to maintain the integrity of his shield. The scent of smoke and expended magic still lingered in the air.

Arzath was getting desperate.
He sighed and collapsed into the chair behind his desk. Leaning over the mess of papers, books and fountain pens, he rested his forehead in his hand. Then suddenly he grimaced and thumped his hand down on the desk.
Gods, why was Arzath so bloody
persistent?
Of course, Requar had made mistakes-- terrible mistakes that had hurt many people, his brother most of all-- and he regretted them deeply. He would have changed them if he could. But he couldn't. They were long in the past and far beyond even the power of the Gods to alter. He didn't expect forgiveness, he just wished that Arzath could find some way of
moving on.
After all,
he thought,
what will killing me achieve?
Requar was tired of this unceasing war. That was why he had sent Arzath the message. He knew it was a vain gesture, a token attempt to communicate with his irrational brother on a reasonable level. Arzath had probably used it for fire kindling by now.
But at least he'd tried.
He stared gloomily around his small, bright study, but found no answers in the crammed bookshelves or polished cabinets filled with herbs and curative potions. He found even fewer answers in the meticulous handwritten research notes littering the desk in front of him.
The word
trigon
leaped out at him, like an accusation.
Scowling, he scrunched the paper up and threw it across the room, then returned his aching head to his hands.
A few minutes later, his blue eyes opened again at a gentle prodding from the magic he had set to protect the castle. Even that slight touch caused him to shudder.
Someone had approached the keep.
He pushed himself up and peered out the window, then left the study and headed for the stairs.
His high leather boots echoed on the polished marble floor as he crossed the spacious foyer. He took one of the gilded handles, pulled it and beckoned the servant to enter.
Cimmeran stepped into the cool foyer, panting and looking hot and haggard from hurrying from one side of the valley and back again twice. Anxious though Requar was to hear his brother's answer, he led the servant into the commodious and elegant dining hall, where a flask of red wine and two crystal glasses waited on the long table. He poured Cimmeran and himself a drink and waited until Arzath's servant had quenched his thirst sufficiently before asking for the message.
Cimmeran wiped his mouth on a dirty sleeve. "Lord Arzath has agreed to a meeting at midday at the aforementioned place," he stoically intoned.
Requar nodded, taking a sip of wine. Then all of a sudden he choked on it. "He
what?
"
Cimmeran repeated the message he had rehearsed.
Requar stared at him. "He
agreed?
Arzath? Agreed? To meet me?" He spoke each part of the sentence slowly, as a question, as though by breaking it up it would somehow make more sense.
Cimmeran looked anxious. He glanced around with wide eyes, as though wondering if he'd said something offensive. "Um, y-yes?" he stammered.
Requar was taken aback. He had never seriously expected his brother to take up his offer. He was expecting something more along the lines of a sarcastic reply, or at worst, another all-out assault on his castle. The fact that Arzath had agreed to a, ah-- in theory at least-- civilised meeting was a significant step forward. Perhaps he had finally realised that this war between them was pointless.
But Requar doubted it. More likely, Arzath simply wanted the opportunity to insult him in person. Requar shook his ruminations aside. It didn't matter. At least he now had a chance to speak to his brother face to face. If he was lucky, he might even get a couple of words in before Arzath tried to murder him.
He nodded again, carefully keeping the relief from his face. "Thank you, Cimmeran. You may rest here until you feel ready to return to your keep."
At his words, Cimmeran stiffened, his bony hand tightening around the slender stem of the wine glass. He looked up at the sorcerer with a pained, despairing expression.
Requar studied his eyes and read there the familiar, unspoken plea. He sighed deeply and shook his head. "You know that if there was anything I could possibly do to help you, I would not hesitate..."
Cimmeran looked back down at the empty glass, then went to the table and poured himself another drink.
Requar watched him gulp it down, then placed his own unfinished glass on the table, turned away sadly and left the servant in the dining hall with the remainder of the wine. He felt sorry for the poor man, but could do little to help him while he was under Arzath's control. His brother had placed powerful possession spells upon Cimmeran that reacted to the slightest attempt at interference. Simply touching him was hazardous, as Requar had discovered one day when he had thought to examine Cimmeran, worried about his malnourished condition. A fierce bolt of violet lightning had leapt forth and struck Requar's hand, burning it severely.
The injury had taken little effort to heal with his own magic, but he had been careful to keep his distance from Arzath's servants and minions ever since. Cimmeran himself had not been scathed in the attack, but it was a clear warning that Requar was not eager to ignore.
But despite the frustration he felt at his inability to free Cimmeran from his violent, hate-riddled master, he looked forward to the servant's visits, brief as they were. He lived alone, his magnificent white castle so full of promise and yet so empty, as it had been since he had built it. Developing relationships with people was exceedingly difficult with Arzath snapping at every step he took.
But just occasionally,
he thought as he watched the sunlight spilling in blue and gold streamers through the huge stained-glass window above the main doors,
it's nice to have someone else to talk to.
The sun at midday was a formidable opponent.
At the far end of the valley, upon wide flat rocks laid in a shelf above the sparkling waterfall, Lord Requar sheltered from the sun beneath the prickly, gnarled boughs of an ancient, weather-beaten pine tree. A sweltering wind ruffled his white braided hair as he gazed over the peaceful vista below.
From this vantage point, the whole of the valley lay spread out before him, golden and slumbering, cradled protectively in the hard grey hands of the Barlakk Mountains. Requar watched it sleep, beginning to share in its drowsiness as he listened to the reassuring lullaby of the waterfall churning out of a cleft in the rock face below his feet. In the years before Arzath had settled in this valley, he had often come up here to sit in peaceful solitude with the wind as his only companion, and stare at nothing, and think about nothing.
Those days are long gone,
he thought sadly. Now he had far too much to occupy his thoughts.
Aside from the splendid view, there was a much more important reason Requar had chosen to meet his brother in this particular place-- it was the only neutral ground in the valley. The river marked the boundary between Arzath's domain and his, thus the only piece of ground that wasn't riddled with spells was this cliff where he stood.
Requar sensed his brother's presence long before he appeared, in the susurrus of the dry grass. Sure enough, a few minutes later Arzath emerged from between the boulders at the far side of the ledge. He had forgone his cloak in the heat, clad in familiar black save for the gold arabesque stitching on his vest and a matching gold-coloured loose-sleeved shirt. Upon seeing Requar he paused, then folded his arms and stood where he was, disdaining to advance further. His eyes were fiery green chips beneath his black hair.
It had been three years since the brothers had last met each other in person, and Arzath had worn exactly the same expression then as he was now. Requar sighed inwardly. He hadn't changed at all, either in appearance or manner.
This isn't going to go well...
The two sorcerer brothers stared at each other. The roar of the falls filled the uneasy silence.
"I must admit," Requar said finally, unable to prevent a wince as he pushed himself away from the tree, "I'm surprised you came. I expected my message to be floating pieces of ash by now."
Arzath raised an eyebrow. "It is."
"And yet, you came."
Arzath was smirking. "Did you enjoy my present?" he said viciously.
Requar nodded solemnly at the damaged black castle. "Did you enjoy mine?"
The smug look vanished from Arzath's face in an instant, Requar's words igniting a telltale flash of anger in his eyes. He stalked across the cliff top towards him.
Requar let him come.
Arzath's arm snapped up, his hand surrounded by a crackling nimbus of violet energy.
Requar's arm came up at the same time.
They stood two yards apart, each bathed in the glow of each other's magic.
Requar sighed. "How many of these confrontations have we had before, Arzath?" he said, shaking his head. "This feud between us has gone on for more years than I'd care to count. I am growing tired of this nonsense. It has to end."
"Oh, I intend it to!" Arzath snarled.
"I take it you didn't come here to listen to anything I have to say," Requar said. "You never listen, do you?"
"Nothing you could possibly say would be anything I'd care to hear."
"Then what are you doing here?"
Arzath barked a laugh. "Isn't that obvious?"
Requar stared at him in dismay. "I thought better of you," he said quietly. He shook his head again. "I thought perhaps..."
"You were mistaken," Arzath sneered, "if you believed I had any interest in your pathetic, misguided delusions of
peace
, after all the effort I went to to hunt you down! After all the years I spent searching for you after what happened at the School!"
"No one remembers the School any more..."
"And that's exactly the way you want it, isn't it?" Arzath's voice was rising in fury. "Everyone to simply
forget!
Well,
I
remember, Requar! I remember that I lost my Sword! I remember that
everyone was dead!
I remember
exactly who was responsible!
"
Requar said nothing. With his arm still raised, he closed his eyes and turned his head away.
"And you don't even have the backbone to deny it!"
"I was... only trying to protect you..."
"Protect me?! Ha! The truth of the matter is, you couldn't stand the fact that I might end up more successful, more
powerful
than you, so you destroyed the whole School rather than see me graduate!"
Requar stared back at him in horror. "What?! No...!"
"Oh, don't bother! I told you, your excuses mean NOTHING to me!"
"So, that is what this war is about?" Requar demanded heatedly. "Vengeance?" He could feel his grip on his own composure slipping, the heat of the sun boiling long-buried emotions to the surface.
"Vengeance," Arzath hissed, "is all I have left!"
Even though he was prepared for it, the force and speed of the attack smashed through Requar's defences and sent him stumbling back several feet. He had barely time to gather his own magic again before a second attack threw him hard to the ground.
I'm weaker than I realised,
he thought as he desperately threw out a wave of blinding white light, turning aside Arzath's lightning bolts, which struck the rock and grass flinging up chips of stone and left black scorch marks smoking all around him. One bolt deflected into the pine tree, igniting its dry sun-beaten limbs into a raging conflagration.
The burning tree was every bit a match for his brother's anger. Unable to rise, Requar could do nothing but endure Arzath's strikes and hope that his strength held up long enough to outlast his brother's wrath. The pain in his head was intense-- he still was not fully recovered from the last assault-- and he could see nothing beyond the flare of his own magic and the smoke gathering in a thick cloud around him.
Then, abruptly, the attack ceased.
Requar kept his arm raised, shielding himself, a globe of light poised in his hand. Panting, he peered through the haze for Arzath...
The black-haired sorcerer lunged at him.
Requar swung a leg at him, tripping him over, but Arzath fell right on top of him and immediately slammed a fist into his face. Dazed, Requar suffered a second jarring blow before he managed to recover his wits long enough to hook his right fist at Arzath's jaw in return.
Arzath went sprawling.
Requar pushed himself into an unsteady sitting position to find his brother spitting blood beside him. "What is this... going to achieve?" he asked painfully.
Despite his own pain and weariness, Arzath laughed, breathlessly. "It will make me...
feel better!
" Then he threw himself onto Requar again.
The two brothers fought violently, kicking and hitting out with fists, tearing clothing and rolling over and over on the ground. Arzath did most of the attacking, while Requar desperately tried to defend himself. Neither of them used magic this time.
Then Arzath managed to pin Requar on his back again. Wrapping his hands around his brother's throat, he began to squeeze tightly, crushing his windpipe.
Out of pure survival instinct, Requar grabbed Arzath's shoulders and used his very last reserve of magic to fling him off.
It worked: Arzath released him and fell backwards, as though shoved by an invisible hand.
Requar rolled over, coughing, trying to force acrid air into his tortured lungs. He had neither physical strength nor magical energy left to spare. Another blow would be the end of him.
But no further attacks came.
Finally,
Requar thought in relief.
Finally, he's given up.
When at last he managed to force himself up, a few minutes later, he found that Arzath was nowhere to be seen.
He looked around through the ashes drifting from the smouldering tree, but his brother was simply gone. Confused, Requar stood up. Where was he? Had he used some sort of camouflage spell...?
And then he noticed how close he was standing to the edge of the cliff.
Despite the burning glare of the sun, his entire body froze over. A patch of brown grass right on the precipice was flattened and broken.
Requar wasn't sure how he made himself move, made himself step forward to look over the edge, past the leaping arc of the waterfall... but he did.
He reeled, and stumbled backwards to save himself falling over, and crumpled to his knees on the dusty rock. Nothing else in the world had changed: the crickets were starting to chirp again in the grass behind him. In the direction of the black castle, a Muron shrieked. The sun continued to glare down on him pitilessly.
But something
had
changed.
Everything had changed.
For a long while, Requar just stared at the ground in front of him, shocked. But it wasn't the passing smoke shadows or cracks in the weathered stone that reflected in his eyes. It was the body of his brother, lying broken and motionless on the rocks far below.
Arzath was dead.
The reality of what had happened barrelled down on him, swept him away like a charging beast, piercing him with sharpened tusks of madness, terror and grief. His fingers clawed at the dust.
He screamed.
Powered by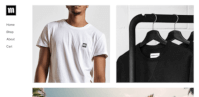 Create your own unique website with customizable templates.